The lawing front of the house where I live was once an orchard. Locals tell of getting bags of apples from people like the late Canon Bill Murphy. Unfortunately, one of his successors had the apple trees cut down and a lawn took their place.
I noticed this year that as part of a plan to promote bio-diversity and greater carbon absorption, The Green Economy Foundation, which is based just a few miles away from me at Manch, Ballineen, was offering apple trees as part of their promotion this year.
So I said I'd replant some Irish apple trees near my house. Today was the first chance I got to do the digging and planting but I'm happy that they are in the ground now.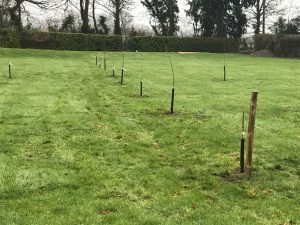 I've no idea who will get to eat the fruit but I do hope that I may get to taste them.